Angie Blaikie, MPT
Angie's passion lies in helping people reach goals related to their human bodies, whether it's healing from surgery, running a marathon or being able to play with their grandchildren. She's a huge fan of movement and is always hopeful that her clients will adopt it as a regular occurrence in their lives. She has specialty training in exercise, manual (hands-on) therapy, pain science and lymphedema.
Education
Master of Science in Physical Therapy
California State University Sacramento
Bachelor of Science in Exercise Science
Eastern Washington University
Specialized Education
Folsom Physical Therapy Long Term Program
Folsom Physical Therapy and Training Center | 2015, 2016
Professional Experience
Physical Therapist
Folsom Physical Therapy and Training Center | 2016 – Present
Physical Therapist
Motion Recovery Physical Therapy | 2013 – 2016
Teaching Experience
Guest Lecturer 
The Role of Modalities in Physical Therapy
University of California, Davis Pain Fellowship | 2020 
Co-Instructor 
Lymphatics for the Orthopedic Manual Therapist
Folsom Physical Therapy Long Term Program | 2016 
Assistant Instructor
Folsom Physical Therapy Mini Series
Folsom Physical Therapy | 2017, 2018, 2019
Certifications
Certified Lymphedema Therapist 
Academy of Lymphatic Studies (ACOLS) 
Therapeutic Pain Specialist Certification
Evidence In Motion 
National (USA) Instructor Certification 
Kaltenborn-Evjenth Orthopedic Manual Therapy Concept (KEOMT) 
Professional Associations
American Physical Therapy Association (APTA)
American Academy of Orthopedic Manual Physical Therapists (AAOMPT)
Kaltenborn-Evjenth Orthopedic Manual Therapy (KEOMT)
California Physical Therapy Association (CPTA)
Assembly Representative for the Northeast District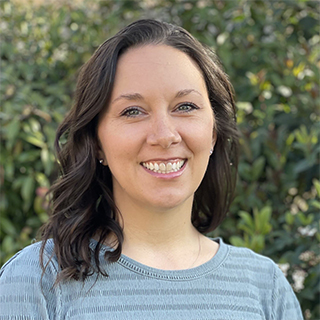 Angie Blaikie, MPT
Orthopedic, Lymphedema and Therapeutic Pain Specialist
Angie is a lover of the outdoors and is passionate about staying active. She loves skiing & snowboarding as well as cycling, occasionally entering in gravel and cyclocross races. On the weekends, if she's not outside, she can be found working on home improvement projects with her husband Kyle or walking their dogs, Mousse & Hank.
Please indicate your availability and preferred therapist, if any, and someone from our appointment desk will get back to you. If you would like to call to book your appointment, our number is (916) 355-8500.
Our Professional Affiliations